Woodstock, Georgia Truck & Trucking Insurance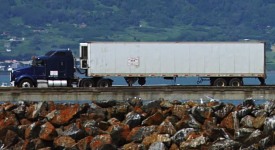 Primary Liability No matter how you use your truck. We cover drivers for local, intermediate and long haul. Most every size truck is eligible. Call us today or send a quick quote inquiry!

This coverage option protects you from damage or injuries to other people as a result of a truck accident. This coverage is mandated by state and federal agencies

Comprehensive Physical Damage and Collision Coverage

This insurance is coverage for your truck and trailer. This coverage is for repair or replacement for damage resulting from things such as collision, fire, theft, hail, windstorm, earthquake, flood, mischief, or vandalism to your owned vehicles.

Motor Truck Cargo Coverage

Motor Truck Cargo insurance protects the transporter for his responsibility in the event of damaged or lost freight. The policy is purchased with a maximum load limit per vehicle.

General Liability

This coverage provides protection for injuries or property damage sustained while on your premises, using your products or services, or because of a breach of contract. Our company can offer you many lines of coverage for Artisans Contractors, Contractors Liability, Contractual Liability, Electrical Work, and Plumbing.

Non-Trucking Liability/Bobtail Coverage

Non-Trucking Liability (Bobtail Coverage) provides limited liability insurance for owner-operators who are permanently leased to an ICC regulated carrier. It provides limited liability protection when the owner-operator is not on dispatch, nor pulling a loaded trailer.

We also write Cargo Insurance. If you haul valuable cargo we will help you make sure the cargo is covered if you have a crash that damages your cargo. Your cargo may be a load of steel, lumber, automobile motors, and more.

Filings for D.O.T.

Do you need a form E filing, or some other type of filing required by state or federal law? Chances are we can help with that filing.

Our agency offers many strengths that we can use to help our customers with their trucking insurance needs. We are able to offer a wide range of acceptability. We can be very flexible if you have some drives who have violations or accidents. Contact us for a discussion regarding your trucking insurance needs.