Woodstock, Georgia Professional Liability Insurance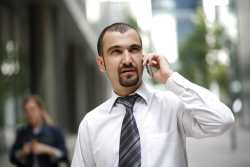 Why Do I Need Professional Liability Insurance?

Professionals need liability insurance in addition to an in home business or business owners policy.  This will protect them against financial losses from lawsuits files against them by their clients.  

Professionals are expected to have techinical knowledge or training in their particular area of expertise.  They are also expected to perform the services for which they are hired.  If they fail to use the degree of skill expected, they can be held responsible in a court of law for any harm they cause to another person or business.   When liability is limited to acts of negligence, professional liablity insurance may be called "errors and omissions" liability. 

Professional liability insurance is a specialaty coverage. It is rare to be able to attach the coverage to your existing business policy.

Architects & Engineers E&O
We offer several companies  that cater to the specialized E&O needs of Architects and Engineers (A&E) Typical claims for A&E Errors & Omissions are faulty design plans or construction managment problems.  
The coverage varies greatly based on the type of specialty.  Let us provide the protection your clients need.   

Directors & Officers
Companies today are facing increased liability threats, driven largely by new legislative duties and the escalating number of private securities related claims.
This heightened risk can translate into multi-million dollar lawsuits against companies and their directors, officers, or employees.  Directors and Officers Liability coverage is the only way to protect the personal assets of these decision makers.  
Modern Family Insurance offers the expertise in this speciality market and gives you the security of working with a knowledable partner.   

E&O Miscellaneous
Errors & Omissions coverage is designed to protect businesses who offer professional services to others for a fee.   Every profession, company or individual has different requirements, depending on size, specialities, services provided, and more.  We will use  our extensive experience to provide the appropriate coverage.  You will receive a customized indication, with emphasis on comprehensive coverage, competitive rates, and responsive claims handling.

Lawyers E&O
We can offer  a choice of companies offering coverage for various size law firms and legal specialities.  
We can assist your client on a primary and/or excess basis.  If you want an agent who specializes in the specific needs of law firms, contact us today. 

Real Estate E&O
We provide a choice of companies that posess  valuable insight into current Real Estate Related E&O issues that need to be addressed in today's Professions Liability marketplace.  
Our experience with Real Estate Related E&O insurers allows us to assist you in finding and securing an approriate and affordable Real Estate Related E&O solution for your risk.

We have listed just a few of the more popular solutions for professional liabilty insurance.  If you give advise or consult for a living ask us about a solution for your business.